I became a Team Mom for the first time when my daughter started tee ball at 5-years-old. Since then, she dabbled in basketball, figure skating, cheerleading, dance and gymnastics before settling on softball and court & beach volleyball as her main loves. During that time, she has competed in our local little league, in local and in-state tournaments, regionally throughout the Midwest (Ohio, Kentucky, Indiana, Michigan, Wisconsin and Illinois) and nationally seven times.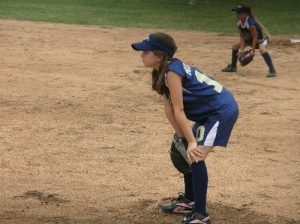 I know what you are saying… why is she giving us her daughter's credentials? I said all this to show you I have some serious credibility when it comes to being a team mom. All while she was learning and growing as an athlete, I was learning and growing as a team mom. Although, this didn't fall far from my own area of expertise, since I have a degree in Sport Management from Indiana State University (Yes, the one Larry Bird went to). However, I assure you, having a sports management degree is not required to be a team mom!
Being a Team Mom was never in my realm of thinking when I was in college. (Probably because I was so focused on the fact that I was going to be the first female General Manager in Major League Baseball… with the Boston Red Sox, of course.) When the opportunity presented itself to be a Team Mom, I volunteered right from the start – unlike most parents who are reluctantly appointed to the position by process of elimination (i.e., the last one to show up at practice).
I was excited at the prospect of being involved where ever I could. I come from a family with a strong ideal of volunteerism and I am a sports junkie at heart so this was my way to stay involved. Since then, I have either been a Team Mom / Assistant Coach / Head Coach every year she played. I was elected to the Board of Directors of the local little league in 2007 where I currently serve as the Treasurer. I have also served on the little league Board as Vice President of Softball and Auxiliary Chair where I founded the league's first Auxiliary Committee. When my daughter played high school volleyball I founded the high school's volleyball booster club where I also served as chair. Finally, I took on the role as team owner in 2015 which tested all the things I learned as a team mom to the max as I am now solely responsible for team finances, tournament selection & registration and player & personnel management.
In 2013, I received the ultimate honor in "team mom-dom" when I was chosen to be a member of the Disney Parks Moms Panel representing the ESPN Wide World of Sports Complex. As their Team Mom, I helped guests plan their magical Disney sports vacations. This included everything from recommending dining options for teams to resort accommodations and suggestions of ways to have fun at Disney when the competition is over. After my time on the Panel, I became a travel agent for Looking Glass Travel an Authorized Disney Vacation Planner agency. (SHAMELESS SELF-PROMOTION TIME: If you would like a FREE QUOTE on your own *MAGICAL* vacation, let me know HERE.)
When it comes to coaching I didn't branch out to far from my playing days and stuck with what I knew and that's softball. When needed, I have been an assistant coach and a head coach on several occasion. I was even honored to be asked to be an assistant coach for the high school softball team.
So what does all this mean to you? It means I've been there and done that. From the early years when snack schedules were my biggest concerns to the later years when I was involved in the day-to-day management of team operations, there isn't a situation as a Team Mom I haven't seen, heard of or more than likely personally participated in.
My time as a team mom not only helped me continue participation in my first love, sports, it also helped me stay close to my daughter and her friends (you can learn a lot on a long car trip to a tournament by just keeping your mouth shut and listening LOL). My hope with this blog is to give you the tools you need to be the best team mom you can be and maximize that strong bond with your children through sports.