We all know Team Moms wear many different hats. We are psychologist, photographers, primary care physicians, chefs, secretaries, travel agents, head cheerleaders and concierges. These duties all require different tools. Beyond the tools you will need to perform your duties as a Team Mom, you also want to have everything you need to make sure your own player has a safe, sound and sane experience. The best way to make sure you are never without the tools you need for a successful tournament is to pack a dedicated Team Mom Tournament Bag. 
The first rule of packing a tournament bag is keeping this bag separate from the bag you use for your everyday needs. By keeping a dedicated bag exclusively for tournaments you will never have to repack. Repacking before every tournament increases your risk forgetting something. The best way to do this is simply replenishing any of the supplies you used such as Band-Aids and snacks once your get home from the tournament then put the bag away until your need it again.
Type of Bag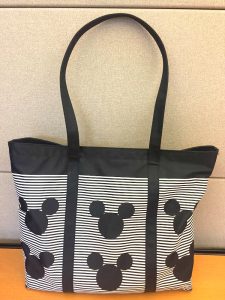 Your tournament bag should be relatively big… of course. At the very least, it should be similar to the size of a laptop bag. At one tournament, I even saw a Team Mom with a diaper bag as her tournament bag. My first thought was, "OK?" (I know, a little judgy.) Then I got to thinking about it and diaper bags really is a great option. They are a nice size. They have lots of pockets and they are typically lightweight… BRILLIANT.
Tournament Bag Essentials
The things you need to put in your team bag really do depends on the sport your kiddo players but at its base, most team moms carry the same items. Here is a list of the essentials I carry in my Team Mom Tournament Bag:
Aspirin / Ibuprofen / Acetaminophen – CAVEAT: This is ONLY for my child and I. NEVER give another player any type of medication. However, if another parent wants to give their player some meds from your stash, that is fine.
Camera – Do not forget to have a fresh SD card – I say this from experience.
Contact list (with cell number and email) – This is essential when playing in unfamiliar cities and venues.
Downtime activities – things like a deck of cards or coloring books/crayons works great (you might be surprised at how much 18-year-old girls enjoy coloring in the Disney Princess coloring book I have in my bag)
First Aid Kit – Boo boos can happen at any time. Make sure you are ready to handle the minor injuries with some Peroxide, a little antibiotic cream and a Band-Aid or two. A word to the wise: buy a box of Band-Aids which has different sizes. A sliding raspberry will need a different size Band-Aid then a scratch.
Gum – In all likelihood gum is banned in your sport. However, some indoor venues can be very dry and having the gum, even if it is just for the parents, is a nice gesture.
Headphones – These are a great way for your player to zone out or even pump up between games.
Kleenex – The little travel packets are perfect for your tournament bag.
Make-up wipes/Antibacterial wipes – As my daughter says, "It's never too late to sanitize." Keeping these items in your bag will be a great way for players to clean up after dirty, sweaty games.
Pens/Pencils & Notepad – Inevitably, there will be a need for a piece of paper some time during every tournament. Whether it's the coach wanting you to keep track of special stats or just needing to jot down some notes or add to your ever growing to-do list, some paper will definitely come in handy.
Ponytail holders (girls) – Like socks, ponytail holders & bobby pins disappear into thin air. A pack of 100 hair ties is usually cheap at the dollar stores and can be a game saver for players with long hair.
Printed maps – You never know when your GPS will think your destination is smack dab in the middle of a lake.
Printed game schedule – If a tournament doesn't provide online scheduling, printed schedules will be very handy. This will alleviate the necessity of running to the tournament director's area after every game.
Rain Poncho/Umbrella – Some sports, like Beach Volleyball, play through the rain as long as there is not any thunder or lightening. I once sat through a torrential downpour at a beach tournament while they played on. I was super thankful for my poncho that day.
Scissors – I can't even count the number of times I have needed scissors to cut errant strings off uniforms, cut ribbons, even cutting shapes for players' hotel door decorations.
Snacks – I am not talking about a five-course meal. Something small like a few bottles of water or Gatorade, fruit, trail mix or granola bars are perfect.
Sunscreen – If your kiddo plays an outdoor sport this is an absolute necessity. It is much easier to apply sunscreen before each game then to put on Aloe after they have burnt to a crisp.
But Wait, There's More…
There is something WAY more important than all the items above in my tournament bag and that's my smartphone. On it I can send and receive emails and texts, take pictures, make dinner reservations, check out hotel reservations and check game schedules. There are hundreds upon hundreds of phone apps out there which can help Team Moms perform their duties. Here are some categories of apps which make my life much easier:
Email – I have found downloading the app from your actual email service provider offers better features then the email apps pre-installed on most smartphones.
Google Docs – This is an easy way to place documents such as tournament information sheet for all the access.
GPS – Used in conjunctions with your printed map (remember the lake!)
Online scheduling program – such as Advanced Event Systems or Game Changer
Restaurant reservation – such as Urban Spoon or Open Table
Roster/schedule management – such as Team Snap
Scoreboard – There have been lots of times, especially when watching volleyball matches, where I can't see the scoreboard. Having a free scoreboard app on my phone makes it so much easier to keep track of the score without having to get up every two minutes.
Statistics – If you would like to keep stats for your own kiddo, there are lots of apps out there help you accomplish this. For example, I use Stat Tap to do individual stats for my daughter's volleyball games. It doesn't require you to keep stats for the whole team, just to get your kiddo's stats. On the other hand, I usually do what to keep track of the entire team when she plays softball so I use GameChanger.
Travel – such as Expedia or Hotels.com
As you can see my Team Mom Tournament Bag is pretty full, but like MacGyver, I have a tool for every situation. If you have any other items in your Team Mom Tournament Bag, tweet me @JazzinDisneyMom. I'd love to know what everyone else has to make their Team Mom Life easier and less stressful.
Sue Nowicki is an alumna of the 2014/15 Disney Parks Moms Panel. She is a team mom extraordinaire who has filled her time serving as secretary, navigator, head cheerleader, treasurer, athletic trainer and team psychologist for her daughter's travel sports team for over 15 years before becoming a team owner. You can follow her on Twitter at @JazzinDisneyMom.