Choosing a resort hotel when staying at Walt Disney World will not only be one of the biggest parts of your vacation budget, it will also be one of the biggest make-or-break parts of your vacation. We all know that if your resort accommodations don't meet your expectations then it can ruin your whole vacation.
Here is a quiz to help you narrow down which Disney resort hotel will best meet your needs in terms of atmosphere, budget, location and style.
Each answer has a point value. Total up your points to see which resorts best fits your style.
1. What is your ideal location to stay on Disney Property?
• Magic Kingdom Park Area (6)
• Epcot Area (3)
• I don't care (1)
2. What amenities do you want your resort to possess?
• EVERYTHING! Great food, relaxing spas, and splashtastic pools!!(5)
• I am good with a restaurant and a fun pool. (3)
• I just need a comfy place to lay my head at the end of a long day in the parks. (1)
3. When you are at Disney where do you prefer to eat?
• Table service all the way (5)
• I like to eat at a combination of Table Service and Quick Service restaurants. (3)
• Give me a Mickey Bar and a Dole whip and I am happy. (1)
4. What is your idea of relaxation at Disney?
• Spa time (5)
• Pool time (3)
• The parks from rope drop to the Kiss Goodnight (1)
5. Where do you do your grocery shopping?
• Aldi, Save-A-Lot or similar (1)
• Kroger, WalMart, Meijer's or similar (3)
• Whole Foods or similar (5)
6. What is your favorite style of dress?
• Penny loafers and Sperry's are a must with any outfit. (5)
• I like to dress up now and again. (3)
• A tee shirt and jeans are my jam. (1)
7. What is your resort hotel budget?
• Go big or go home baby (6)
• I like to keep costs down as much as possible while still having a little luxury. (3)
• Disney on a dime is my goal (0)
8. What is your idea of a fun night at home?
• An evening at the symphony (5)
• Dinner and a movie or a play (3)
• Pizza and a game of kickball in the yard with the kids (1)
9. What are your main plans while at Disney?
• All day, all night at the parks (1)
• I plan to visit the parks while still enjoying my resort's amenities during afternoon breaks and in the evening. (3)
• Relax at the hotel (5)
10. What is your age?
• 60+ (5)
• 40-60 (3)
• Under 40 (1)
11. What do you do when you get back to your resort?
• Get a message (5)
• Cool off in the pool (3)
• CRASH! (1)
12. If you weren't traveling to Disney, where would you go on vacation?
• Europe (5)
• All-Inclusive Resort in the Caribbean (3)
• Family Camping Trip (1)
13. How many people will be in your traveling party?
• 5 or greater (6)
• 1-4 (3)
Points 68 – 57: Your best bet will be one of the fabulous deluxe resorts on property. These resort offer top notch amenities, table service dining and accommodations larger than the average resort. The resorts in this category are Disney's Grand Floridian Resort & Spa, Disney's Polynesian Village Resort, Disney's Beach Club & Yacht Club Resort, Disney's Boardwalk Inn and the suites at Disney's Coronado Springs Resort. (Per night average: $746 – $551)
Points 56 – 45: Your tastes drift to top luxury yet you still want to save a little dinero. The resorts that fit this bill are Disney's Animal Kingdom Lodge, Disney's Wilderness Lodge, Disney's Contemporary Resort, the Family Suites at Disney's Art of Animation and the Cabins at Disney's Fort Wilderness Resort. (Per night range: $498 – $430)
Points 44 – 33: Moderate accommodation such as Disney's Port Orleans Riverside & French Quarter Resort, Disney's Coronado Springs Resort, Disney's Caribbean Beach Resort and the Family Suite at Disney's All-Star Music Resort will give guests a luxury experience with non-luxury price. (Per night average: $341 – $241)
Points 32 – 21: While you are interested in saving as much money as possible, you still want great theming and increased room sizes. The resorts you might be interested in are Disney's Art of Animation or Disney's Pop Century. (Per night average: $198 – $169)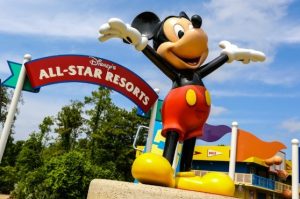 Points 20 – 11: You are likely heading to Walt Disney World with a strict budget in mind. Resorts you might want to look into are Disney's All-Star Resorts. These resorts offer the themes of sports, music and movies. (Per night average: $153)
Sue Nowicki is an alumna of the 2014/15 Disney Parks Moms Panel. She is a team mom extraordinaire who has filled her time serving as secretary, navigator, head cheerleader, treasurer, athletic trainer and team psychologist for her daughter's travel sports team for 10 years before becoming a team owner in 2015. You can follow her on Twitter @TeamMom365.