When you are a Disney fan you are used to doing a lot of waiting. You book your Disney vacation then you wait… You make your Advanced Dining Reservations then you wait… You make your FastPass+ selections then you wait… This process of waiting is lovingly called the "Disney Waiting Dance".
I am always trying to find different ways to keep the MAGIC of Disney alive when I am away from Disney (aka planning my next Disney vacation). Here are a few ways to make the time fly while doing the Disney Waiting Dance:
Games
There are so many fun smartphone games to kill time between Disney vacations. Three of my favorites are Frozen Free Fall (there are also version for Maleficient and Cinderella), Disney Magic Kingdoms and Disney Enchanted Tales.
Free Fall is a connect three game similar to Candy Crush. Magic Kingdoms and Enchanted Tales are both community building games. Magic Kingdoms allows you to build your own theme park. Enchanted Tales uses three familiar stories (Beauty and the Beast, Frozen and Tangled) to build villages.
Join the Discussion
Whether it's on discussion board, Facebook, or Twitter, join with other Disney fanatics who are as obsessed as you.
DISCUSSION BOARDS
Discussion boards are online bulletin boards where fans can discuss all aspects of Disney. With boards on virtually every Disney topics imaginable, it is a great place to find all the information you will need to plan your Disney vacation.
FACEBOOK
Find the Facebook page for the month you are visiting. There are pages for both theme park visits as well as cruises. The month pages will have a plethora of information specific to the time you are visiting such as attraction closures, park events, and even dates and times for any in-park meet ups. The cruise pages will also have meet-up info, links to Fish Extender groups, and cruise events.
If you don't have your next Disney vacation planned… yet… you can also find a fun Disney group and join the conversation. Here are a few of my favorites:
Disney Cruise Line (not the official page – this is a page for DCL fans)
Disney Fanatics
Disney Planning Anonymous
Fish Extender Disney Cruise Line (for folks wanting to become a part on a Fish Extender Group on the Disney Cruise Line voyage)
Mouse4Life
Team #runDisney
This isn't even close to the number of Facebook groups out there but will give you a great start.
And, of course, don't forget to follow me on Facebook for up-to-date breaking news and vacation planning information. (Sorry, I had to get a plug in there.)
TWITTER
While Twitter is an odd bird in the online conversation realm, it is a great time waster as you look through your feed for the latest Disney news. Here is a list of Twitter pages every Disney fan needs to follow:
@Disney
@DisneyAnimation
@DisneyAuditions
@DisneyAulani
@DisneyChannel
@DisneyCruise
@DisneyD23
@Disneyland
@DisneylandToday
@DisneyMoms
@DisneyParks
@DisneySports
@DisneySprings
@JazzinDisneyMom (that self-promotion thing again)
@OCDisney (run by the Orange County Register)
@PTZtv (Portcam shots)
@runDisney
@TheDailyDisney (run by the Orlando Sentinel)
@WaltDisneyCo
@WaltDisneyWorld
@WDWToday
@WDWNTNow
**A great tip for novice Twitter users is to create a custom list with all these Twitter accounts so you can view all their tweets in one easy-to-manage location.**
Disney+
Disney+ joined the streaming ranks in November, 2019. With it came a wealth of Disney, Star Wars, Marvel, Pixar and National Geographic content. The content includes everything from classic Disney movies to new original content from nearly every intellectual properties across the Disney universe.
Port Cams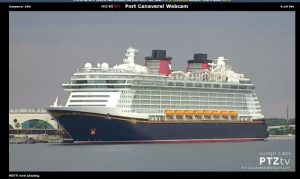 If you are waiting for a Disney Cruise Line, there are port cams all around the world recording the movements of cruise ships. However, there are a few which regularly highlight the ships of Disney Cruise Line.
Port Canaveral Cam
Port Nassau Cam
Two Palms
If you have a few minutes on a Friday afternoon or a Monday afternoon around 5:00pm you may even see the Disney Dream leave Port Canaveral and hear those MAGICAL horns.
Podcasts
There are SOOO many Disney-specific podcast to listen to while you wait. While it would be nearly impossible to listen to all the podcast you can easily find your few favs and listen to them weekly. Here is a very short list of podcasts which every Disney lover should listen to:
WDW Radio
AfterBuzz (show wrap-ups of your favorite TV shows)
The Unofficial Guide's Disney Dish with Jim Hill
Down the Rabbit Hole w/ Looking Glass Travel
Sorcerer Radio
Sorcerer Radio is a smartphone app and website which plays music direct from the Disney parks and resorts. You will hear everything from attraction queue soundtracks to resort lobby soundtracks. Each night you are also treated to a soundtrack from one of the nighttime spectaculars (ie. Fantasmic!, Wishes, Illuminations: Reflections of Earth).
YouTube
Whether it's ride videos, vacation trip reports, official Disney videos, or Disney music compilations, just searching the word Disney will return hours of fun content. Some great YouTube accounts to follow are Disney Parks, Disneyland, Disney/Pixar, and WDW Radio.
My newest obsession is the music loops from the Disney Parks. There are so many to choose from I didn't even know where to begin. Each loop is roughly an hour long and features the soundtrack for a location in the Parks. Whether it's the whimsical music at the entrance to Magic Kingdom Park, the ethereal music of the Epcot entrance or the classic themes from the Great Movie Ride exterior music, there is sure to be something there for you. Here are a few of my favorites:
Adventureland Area Music Loop
Festival of Fantasy Music Loop
Great Movie Ride Exterior Loop
Epcot Entrance Music Loop
Magic Kingdom Entrance Music Loop
Main Street Holiday Christmas Loop
Main Street USA Area Music Loop
Soarin' Queue Loop
Splash Mountain Loop
The Living Seas – Area Music Loop
Tomorrowland Area Music Loop
For those of you who are Disneyland fans, have no fear, there are bunches of music loops for you too:
Buena Vista Street Area Music Loop
Disneyland Frontierland Music Loop
Disneyland's New Orleans Square Music Loop
Grand Californian California Adventure Entrance Music Loop
Jungle Cruise Music Loop – Disneyland
Main Street, USA (Disneyland) Music Loop
Say goodbye to the next few hours as you enjoy these great time killers which are sure to bring back fond memories of your time in the Most Magical Place on Earth and get you even more excited to return.
Sue Nowicki is an alumnae of the 2014/15 Disney Parks Moms Panel. She splits her time between planning her next Walt Disney World vacation and being team mom to ten high-energy volleyball players where she fills the roles of secretary, navigator, head cheerleader, treasurer, athletic trainer and team psychologist. You can follow her on Twitter @JazzinDisneyMom.