I make no secret of the fact that baseball and softball are my favorite sports. I grew up watching the Red Sox and played softball all through high school. To that end, I LOVE a good baseball movie. Two hours of escaping between the foul lines sounds like a good time to me. I have seen nearly every baseball movie imaginable but there are five that are near and dear to my heart for different reason. Here are my Top 5 Favorite Baseball Movies of all time.
This post contains affiliate links. 
5. A League of Their Own
A League of Their Own tells the story of the Girls Professional Baseball League which reached its heyday in 1940's when Major League baseball was shuttered due to World War I. Starring Hollywood elites such as Madonna, Rose O'Donnell, Geena Davis, Lori Petty and Tom Hanks, this movie proves that girls can play ball!
I remember hearing Rosie O'Donnell and Madonna was going to be in a movie about baseball and cringed. I was pleasantly surprised, and maybe a little impressed, with the talent level of the actors. This talent added to the story as anything short would have been a distraction, especially for those of us who played the game.
4. The Sandlot
Pick-up games on the local ball diamond are a rite of passage for kids. Where I grew up we didn't really have a diamond in my neighborhood so all the neighborhood kids would come to my house and played on our large side yard when the maple tree was home base, the bare spot was 1st, the pine tree was 2nd base and the birch tree was 3rd. No matter how sketchy the field, we spent hours out there playing the game we all loved.
The Sandlot perfectly portrays the games I played growing up and eventually taught me to be the ball player I became. I saw this in my daughter as well. Her participation in these neighborhood games taught way more then how to play ball. They taught her toughness, how to take a joke, how to take criticism, and how to have fun even through fierce competition.
3. Bull Durham (R)
Bull Durham is about fictional minor league baseball player Crash Davis who has spent a vast majority of his professional baseball career in the Carolina leagues. This movie begins with Crash being traded to the Durham Bulls to help an egotistical young pitcher prepare for the major leagues.
Without a doubt, this movie contains some of the best baseball quotes EVER. As a coach, I used the "lollygagger" speech many times at practice when my team was less than motivated.
2. Little Big League (PG)
Little Big League is the story of a teenager who becomes the managers of the Minnesota Twins after his grandpa dies and leaves him the team. However, it's about much more than that. It about digging down to find the love of the game. And let's be honest, in all likelihood none of our kids are going off to the pros so why not love the game. If they don't then what are we doing as parents.
1.      Field of Dreams (PG)
Field of Dreams, the story of an Iowa farmer who tills his cornfield to build a baseball field after hearing voices, contains the one line is all movie history that tugs the hardest at my heart strings: "Dad…  Wanna have a catch?" Goodness Gracious!! Please pass the Kleenex. That line gets me every time. I bet this is true for any of you who played catch with your dad growing up. The memory of those times playing catch in the evening after my dad got home from a long day of work are priceless. I know he had to be tired but he never hesitated to pick up his glove and join me in the yard.
Those times taught me way more than how not to "throw like a girl". All that time spent playing catch and talking while we played helped me understand current events, I learned about family history and town history, and I got an education on politics and religion all in a safe environment.
Honorable Mention
No worries, there are A LOT of great baseball movies so here is our list of also-rans.
Major League
Nothing says hilarious like combining baseball and slapstick comedy.
Moneyball
I am a complete stat geek that's why this movie about the original application of the 'Sabermetrics' in the Oakland A's organization was so interesting to me.
Trouble With the Curve
Clint Eastwood as an aging scout, Justin Timberlake as a young agent and Amy Adams as Eastwood's daughter travel the minor league circuit looking for talent. The is a recipe for amazingness. Unlike Moneyball, Eastwood's old school scouting approach proves there is more to a ball player than statistics and tendencies. This is also the movie we get our first glimpse of Scott Eastwood.
Fever Pitch
I know, I know, this movie was universally panned by fans and critics alike, but it's culmination with the Boston Red Sox winning the 2004 World Series, which is one of the Top 10 moments in my life, makes me tear up every time.
Ultimate Sports Movie Bracket
Which is your favorite baseball movie? How about your favorite overall sports movie? Check out this Ultimate Sports Movie Bracket.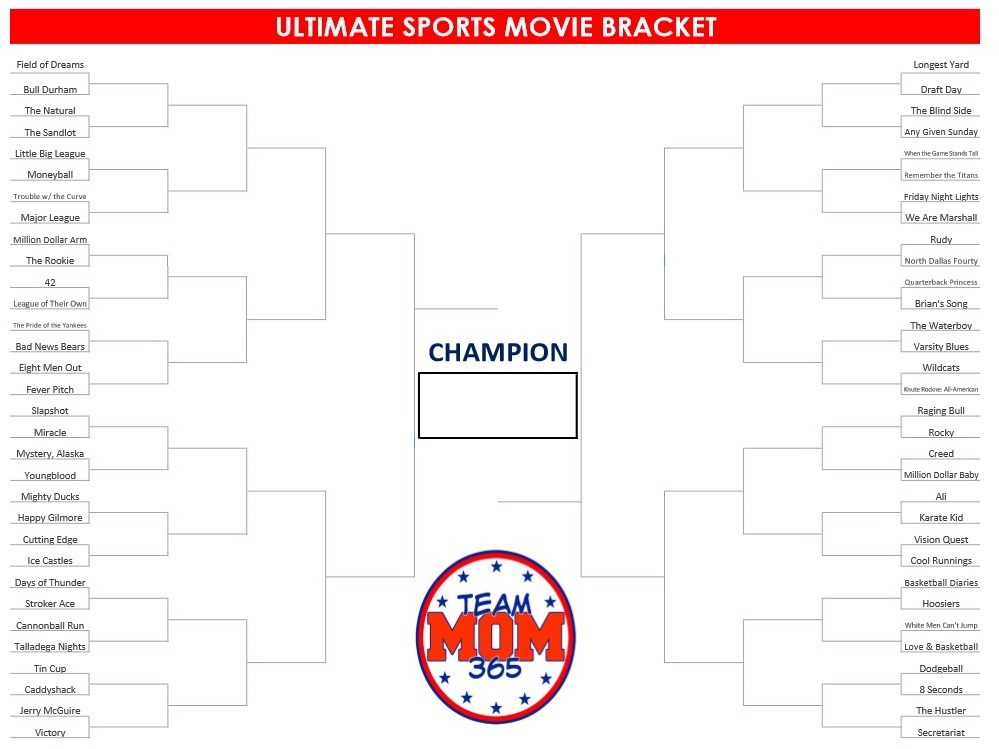 Make sure to tweet us using the hashtag #UltimateSportsMovieBracket to let us know your favorite sports movie.
Sue Nowicki is an alumna of the 2014/15 Disney Parks Moms Panel. She is a team mom extraordinaire who has filled her time serving as secretary, navigator, head cheerleader, treasurer, athletic trainer and team psychologist for her daughter's travel sports team for over 15 years before becoming a team owner. You can follow her on Twitter at @TeamMom365.
You can follow our journey here: Facebook, Twitter and Pinterest for more great Team Mom, parenting, travel and Lifestyle content.