There is nothing better than finding an easy, healthy, frugal recipe which you can cook in one pot and Lasagna Soup does just that. It only takes four easy steps, includes healthy ingredients, costs $1.03 per serving and ONLY ONE DISH TO CLEAN!! This recipe will give you the great comfort food taste of lasagna without the hours of toiling in the kitchen.
INGREDIENTS
1 lb Ground Turkey
1 jar of Spaghetti Sauce
2 containers of Chicken Broth
1 can of crushed tomatoes
1 can of tomato paste
1 Tablespoon Minced Onion
1 Tablespoon Italian Seasoning
1 Teaspoon Garlic Powder
1 box Lasagna/Farfalle Pasta
Grated Parmesan Cheese
MAKES 10 SERVINGS
INSTRUCTIONS
Brown ground turkey with minced onion, garlic powder and Italian seasoning in a stock pot.
Add spaghetti sauce, chicken broth, crushed tomato and tomato paste. Bring to a boil.
Add pasta. (If you used Lasagna, break it into 1" pieces.) Cook until pasta is tender.
Serve desired amount topped with Parmesan Cheese
Can that be any easier? Four steps to yummy deliciousness.
VARIATIONS:
Approximately 5 minutes prior to serving you can add ½ cup of heavy cream. This gives it a silky smooth flavor.
If you are a huge fan of cheese you can add a couple of tablespoons mozzarella on top of the soup if you want a cheesier taste.
This recipe lends itself perfectly to leftovers for lunch and even another dinner.
COST BREAKDOWN
For this recipe I shopped at Aldi and did not take advantage of any sales. I also had several of these items on hand as they are staples in my kitchen.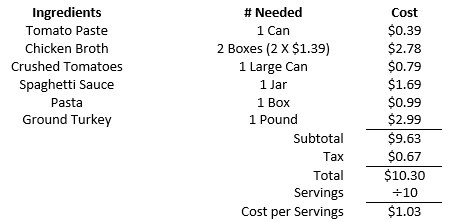 Items on hand: Minced Onions, Italian Seasoning, Grated Parmesan Cheese
Sue Nowicki is an alumna of the 2014/15 Disney Parks Moms Panel. She is a team mom extraordinaire who has filled her time serving as secretary, navigator, head cheerleader, treasurer, athletic trainer and team psychologist for her daughter's travel sports team for over 15 years before becoming a team owner. You can follow her on Twitter at @TeamMom365.
You can follow our journey here: Facebook, Twitter and Pinterest for more great Team Mom, parenting, travel and Lifestyle content.