Have you seen the blog posts about what to put in your theme park day bag? Some of these posts just make me cringe when I think about what it would be like to carry a park bag with the "Top 50 Things You MUST Have in Your Disney Day Bag". OK, I might be exaggerating a little. But still, can you imagine carrying a big park bag on Splash Mountain or Rock 'N' Roller Coaster or Seven Dwarfs Mine Train which has little to no room between your legs?
This post contains affiliate links. 
Seriously friends! There is no need for a gigantic backpack! (Unless, of course, you have little ones who need diapers and other special items… but that's another story.) It's heavy, cumbersome and I definitely wouldn't want to carry one around on a 95° day where the humidity is 1,000,000%. Not to mention, some parks days can include walking as much as ten miles. That bag you thought was no big deal in the morning, you will want to hurl into the Rivers of America by mid-afternoon. I have one word: NOPE!
So here is my list for a Minimalist's Disney Parks Day Bag:
• Small credit card wallet with credit/debit card, Disney Gift Cards, driver's license or other form of ID, and other important cards such as insurance card. These wallets even have room for a small amount of cash.
• Cellphone – Nowadays nearly everyone has a smartphone which can take good pics. If that is the case, you can go without a camera.
• Trial-sized sunscreen which can usually be purchased at any dollar store or sunscreen packets which take up little to no room.
•
Cellphone charger – For some people a cellphone charger might seem unnecessary. For me, a power user (AKA phone battery killer), it is a must. I use a myCharge HubPlus 6700mAh portable charger. I love this charger because it is all-in-one. It doesn't require an additional USB cord nor does it need a cord to recharge it. It includes two integrated charging cables: an Apple Lightening and a micro-USB cord. Another bonus is that it can charge three devices at one time. If you are looking to free up a little room, myCharge also has a mini version that charges two devices. However, I've never had a problem fitting the larger version in my park bag.
Yup, that's it! No fancy-schmancy stuff. Just the basic things you will NEED. (Keep that word in mind, next we are going to have a frank discussion of needs vs. wants.)
NOTE: As you can see, this doesn't account for your theme park admission because in all likelihood you will either be wearing a MagicBand or your will have a credit card size theme park ticket which can go right into that small credit card wallet.
NEEDS VS. WANTS
I know what you are saying, "But I absolutely need (fill in need here)". So just like the conversation with the kiddos about whether they absolutely, positively NEEDED the newest iPhone, I want you to ask yourself, "Do you really NEED it or do you just WANT it?"
• Do you NEED antibacterial wipes?
NOPE, there are bathrooms all over the place to wash your hands and there are even stations set up throughout the parks with antibacterial hand sanitizer.
• Do you NEED a water bottle?
NOPE, ice water is free at all in-park kiosks which serve fountain drinks.
• Do you NEED snacks?
NOPE, Disney is chalk full of awesome snacks and some of them are even pretty budget friendly.
• Do you NEED a first aid kit?
NOPE, there are first aid stations in all of the Disney parks ready and willing to assist you with Band-Aids©, blister pads and over-the-counter medications.
Now don't get me wrong, I am not a stickler. There are some other items that might make your park day a little better:
• Ziploc Bags – This is great for the wet rides such as Splash Mountain and Kali River Rapids and they literally take up no room. You can place your electronics into these bags for safe keeping.
• Camera – There are some small, inexpensive cameras which take great pics. Our fav is the Nikon CoolPix. It is slim and lightweight.
• Autograph Book & Pen – I gotta be honest about this one. When our daughter was younger she loved getting autographs but she never looked at it once after we got home. On the other hand, the pics we took are a different story. We have looked at those many times over the years.
• Deodorant – Like sunscreen, you can get deodorant in trial sizes at any dollar store so it doesn't take up a bunch of room in your park bag.
• Change of socks – Weird I know, but there is nothing grosser then walking around the parks with wet feet after riding one of the wet rides. Socks take up next to no room, so this is an easy item to stuff in your bag.
• Rain Ponchos – If you are visiting during the summer months there are rain showers nearly every afternoon making rain ponchos a smart decision. If you don't want to pack them then be prepared to pay as much as $12 each in the gift shops. Also, when folded up tightly they take up very little room. If you are visiting during the winter months they are less necessary. A word to the wise: if you are going to bring ponchos make sure to also bring Ziploc Bags as you will not want to put them back in your bag wet.
BAG TYPE
1. It has to be hands free. That means a cross body or a small backpack.
2. It can't be too big. Remember, this bag is going to have to fit between your legs on most rides like Splash Mountain, Rock 'N' Roller Coaster and Seven Dwarfs Mine Train.
3. I can typically fit everything in a small cross body purse. However, if you want more room, there are small backpack/purse combos which are perfect. Stores like TJ Maxx are a great place to find these.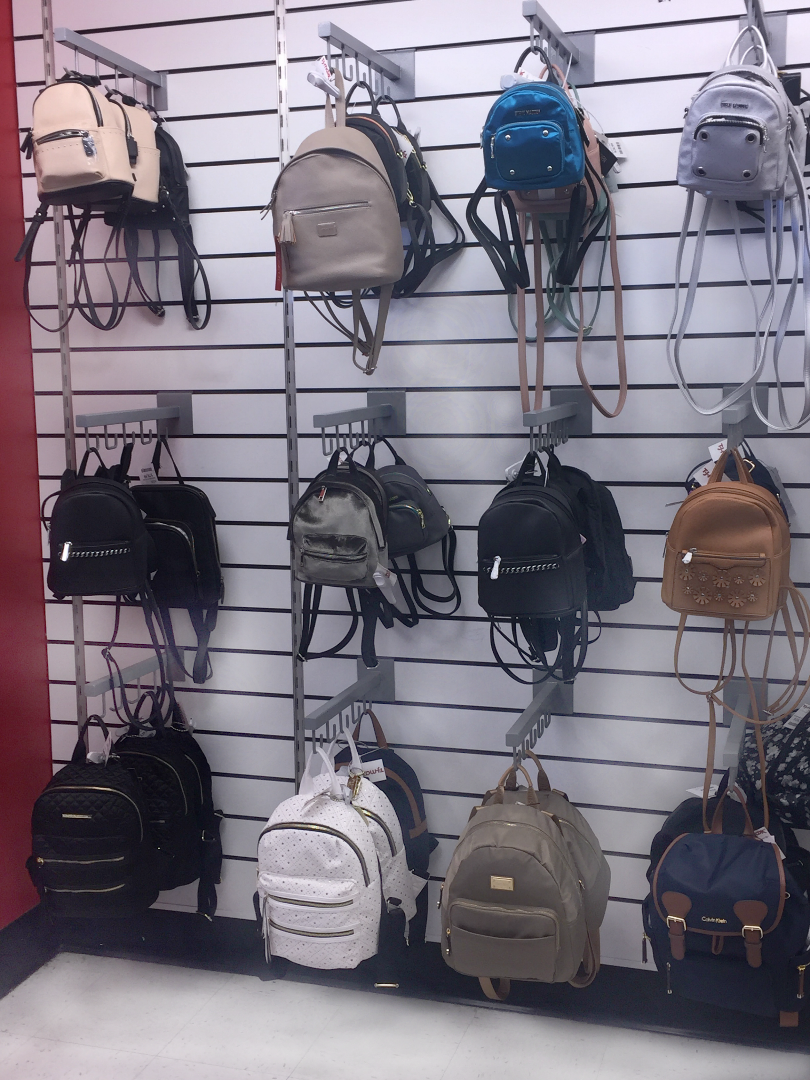 YOUR HOMEWORK
Step 1: As you are packing your park bag for the day ask yourself with every item, "Do I really NEED this or do I WANT this?" If the answer is WANT, kick it.
Step 2: Ask yourself, "Is there room for this?" If no, kick it.
Step 3: On Day 2 of your Disney vacation, look at all the items you put in your parks bag on Day 1 and ask yourself, "Did I use it?" If not, kick it! Continue doing this every day.
So what do you absolutely NEED in your Disney parks day bag? Tweet us @JazzinDisneyMom.
Sue Nowicki is an alumna of the 2014/15 Disney Parks Moms Panel. She is a team mom extraordinaire who has filled her time serving as secretary, navigator, head cheerleader, treasurer, athletic trainer and team psychologist for her daughter's travel sports team for over 15 years before becoming a team owner. You can follow her on Twitter at @JazzinDisneyMom.
You can follow our journey here: Facebook, Twitter and Pinterest for more great Team Mom, parenting, travel and Lifestyle content.