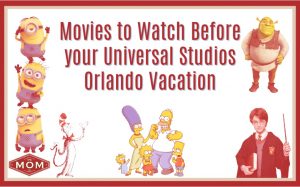 Planning a trip to Universal Studio is more than preparing your budget, making your travel arrangements and getting your home ready for your departure. There's another, MUCH more fun way to prepare for your trip.

Watching all the movies and television shows so many of the attractions and shows are based on is a great way to get your kiddos, and yourself, excited for your trip. You also have to remember, some of the movies may be a little too obscure for our younger generation. It might be fun to introduce your children to a new set of movies.
Check out this list of movies and television shows to get you started.
Universal Studios Orlando
Despicable Me
E. T.: Extra-Terrestrial
Fast & Furious (all)
Harry Potter (all)
Jason Bourne films
Men in Black
The Minions
Revenge of the Mummy
Shrek
The Simpsons
Transformers
Universal's Islands of Adventure
Amazing Adventures of Spider-Man
Dr. Suess
Harry Potter (all)
The Incredible Hulk
Jurassic Park
King Kong: Skull Island
Popeye
Looks like you have your work cut out for you. However, I can't think of a better way to get ready for your Universal Studios Orlando vacation.
###
Sue Nowicki is an alumna of the 2014/15 Disney Parks Moms Panel. She is a team mom extraordinaire who has filled her time serving as secretary, navigator, head cheerleader, treasurer, athletic trainer and team psychologist for her daughter's travel sports team for over 15 years before becoming a team owner. She is also a travel consultant for Looking Glass Travel specializing in Disney destinations. You can follow her on Twitter at @JazzinDisneyMom.