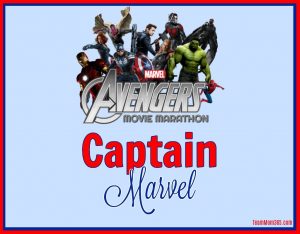 Synopsis
Taking place in the late 90's, this Marvel Cinematic Universe installment gives us the origin story of Carol Danvers/Captain Marvel. A former Air Force fighter pilot who has been living on a distant planet, she has no memory of her life prior to arriving there six years earlier. While fighting to defend her planet she finds herself back on Earth where the mystery of her past starts to unravel.
While watching this movie you will be struck by some of the throw backs honoring other Disney and Marvel Universe movies. You will appreciate the Star Wars-like space-scapes, the 90's soundtrack which harkens back to the Guardians of the Galaxy's 70/80's soundtrack, the similarities to Marvels The Avengers epic New York battle scene with seemingly unbeatable space invaders and the same sense of humor the rest of the Marvel movies employ so well. Who knew a cat could bring such comic relief?
Carol Danvers/Captain Marvel is an amazing addition to the Marvel Cinematic Universe. Can we get an Amen! for another awesome female character?! Her powers rival that of the other kick a$$ female members of the Universe such as Black Widow, Scarlet Witch and Okoye. Yet, she still has a moral compass on par with the origin Captain… Captain America.
A quick word to the wise: Make sure you are there for the very beginning of the movie as well as through the credits… as always. All I will say about the beginning, is that it caused a rousing round of applause while the credits scene caused more than a few gasps.
This post contains affiliate links.
Rating/Parental Warning
PG-13: As with all Marvel movies, this movie features a good amount of violence.
Viewing Locations
In Theatres Now
Discussion Question
What do you think of the make-up/special effect on Nick Fury (Samuel L. Jackson) and Agent Coulson (Clark Gregg) to make them look 20 years younger? Let us know your thoughts in the comments or on Twitter using the hashtag #MarvelMovieMarathon.
Marvel Fun Fact
If you are ordering the Marvel movies chronologically, Captain Marvel will actually fall second after Captain America: The First Avenger which largely takes place in the 1940s.
If you want to go back to the beginning of our marathon or jump forward, here is the marathon timeline:
Movie 1 – Captain America – The First Avenger
Movie 2 – Captain Marvel
Movie 3 – Iron Man
Movie 4 – The Incredible Hulk
Movie 5 – Iron Man 2
Movie 6 – Thor
Movie 7 – Marvel's The Avengers
Movie 8 – Iron Man 3
Movie 9 – Thor: The Dark World
Movie 10 – Captain America: Winter Soldier
Movie 11 – Guardians of the Galaxy, Vol. 1
Movie 12 – Avengers: Age of Ultron
Movie 13 – Ant Man
Movie 14 – Captain America: Civil War
Movie 15 – Doctor Strange
Movie 16 – Guardians of the Galaxy, Vol. 2
Movie 17 – Spider-Man: Homecoming
Movie 18 – Thor: Ragnarok
Movie 19 – Black Panther
Movie 20 – Avengers: Infinity War
Movie 21 – Ant-Man & The Wasp
Sue Nowicki is an alumna of the 2014/15 Disney Parks Moms Panel. She splits her time between planning her next Walt Disney World vacation and running a travel volleyball club where she fills the roles of secretary, navigator, head cheerleader, treasurer, athletic trainer and team psychologist. You can follow her on Twitter @TeamMom365.