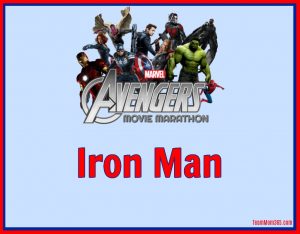 Can any movie go wrong when it starts with a blaring AC/DC song? I think not. This is the first real movie in the Avengers series and introduces us to the larger than life character of Tony Stark/Iron Man. After being held hostage, billionaire engineer Stark creates a technologically advanced suit of armor to escape his captors and fight against the evils of the world.
Viewing Locations*
Amazon Prime, DVD and BluRay

Amazon also offers a box set of all three Iron Man movies.

*These viewing locations are only good for the date of publication. DVD and streaming options change constantly.
Marvel Fun Fact
Do you think Iron Man's suit is science fiction that could never happen? Not so fast. Lockheed Martin is one of several companies developing what they call an untethered exoskeleton. Human Universal Load Carrier (HULC), will help soldiers carry loads of up to 200 lbs. at a top speed of 10 MPH for prolonged periods of time. However, if you want one you better save your pennies. The commercially produced HULC will cost as much as $70,000.
Discussion Question
What do you think of the casting of Robert Downey, Jr. as Tony Stark? Do you see the similarities between the lives of Downey and Stark? Let us know your thoughts in the comments below or on Twitter using the hashtag #MarvelMovieMarathon.
If you wanna skip ahead or are jumping in in the middle here is our playlist of the entire marathon:
Week 1 – Captain America – The First Avenger (July, 2011)
Week 2 – Iron Man (May, 2008)
Week 3 – The Incredible Hulk (June, 2008)
Week 4 – Iron Man 2 (May, 2010)
Week 5 – Thor (May, 2011)
Week 6 – Marvel's The Avengers (May, 2012)
Week 7 – Iron Man 3 (May, 2013)
Week 8 – Thor: The Dark World (November, 2013)
Week 9 – Captain America: Winter Soldier (April, 2014)
Week 10 – Guardians of the Galaxy, Vol. 1 (August, 2014)
Week 11 – Avengers: Age of Ultron (May, 2015)
Week 12 – Ant Man (July, 2015)
Week 13 – Captain America: Civil War (May, 2016)
Week 14 – Doctor Strange (November, 2016)
Week 15 – Guardians of the Galaxy, Vol. 2 (May, 2017)
Week 16 – Spider-Man: Homecoming (July, 2017)
Week 17 – Thor: Ragnarok (November, 2017)
Week 18 – Black Panther (February, 2018)
Week 19 – Avengers: Infinity War (April, 2018)
Week 20 – Ant-Man & The Wasp (July, 2018)
Week 21 – Captain Marvel (March, 2019)
Sue Nowicki is an alumna of the 2014/15 Disney Parks Moms Panel. She is a team mom extraordinaire who has filled her time serving as secretary, navigator, head cheerleader, treasurer, athletic trainer and team psychologist for her daughter's travel sports team for over 15 years before becoming a team owner. You can follow her on Twitter at @TeamMom365.
You can follow our journey here: Facebook, Twitter and Pinterest for more great Team Mom, parenting, travel and Lifestyle content.
Share this post on
About the Author