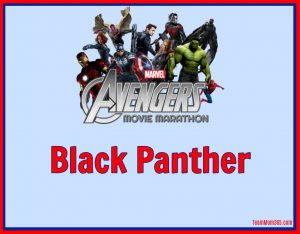 Synopsis
Beginning where Captain America: Civil Wars left off, Black Panther/T'Challa's (Chadwick Boseman) father, the King of Wakanda, has died and he must step up to take his rightful place as king. However, ruling Wakanda has unique challenges not even T'Challa's father could have prepared him for.
This post contains affiliate links.
We all know from his first appearance as the Black Panther in Captain America: Civil War that Chadwick Boseman's depiction of T'Challa is spot on but it's the supporting cast of Black Panther that takes this movie from good to great. From Letitia Wright who plays T'Challa's sister and the comic relief of the movie to Lupita Nyong'o and Danai Gurira playing some of the most bad a$$ female movie characters in ages to Michael B. Jordan as the protagonist who's motives audiences can easily identify with to Winston Duke as rival tribe leader (I could keep going), there wasn't a weak spot anywhere. These characters combine to help Black Panther skillfully and poignantly uses it's platform to comment on the societal issue of race relations throughout the world.
In what can only be described as a cross between Star Wars and Marvel, Black Panther is visually breathtaking with incredible scenery and stunning battle scenes reminiscent of a Star Wars movie. Yet, it gives us another amazing Marvel origin story which is so artfully crafted it could easily stand on it's own without having to see the rest of the Marvel Cinematic Universe movies.
Viewing Locations
Amazon Digital, DVD, BluRay, 3D, 4K
Netflix
Discussion Question
If you were the ruler of Wakanda, would you share its resources with the world and risk their depletion and making yourself a world-wide target or would you keep it to yourself and your country? Let us know your thoughts in the comments, on our Facebook page or on Twitter using the hashtag #MarvelMovieMarathon.
Marvel Fun Fact
There isn't just one credits scene, there are two!! Make sure to stick around to the very bitter end as the final credits scene sets up the next Marvel installment, Avengers Infinity War.
If you want to go back to the beginning of our marathon or jump forward, here is the marathon timeline:
Movie 1 – Captain America – The First Avenger
Movie 2 – Captain Marvel
Movie 3 – Iron Man
Movie 4 – The Incredible Hulk
Movie 5 – Iron Man 2
Movie 6 – Thor
Movie 7 – Marvel's The Avengers
Movie 8 – Iron Man 3
Movie 9 – Thor: The Dark World
Movie 10 – Captain America: Winter Soldier
Movie 11 – Guardians of the Galaxy, Vol. 1
Movie 12 – Avengers: Age of Ultron
Movie 13 – Ant Man
Movie 14 – Captain America: Civil War
Movie 15 – Doctor Strange
Movie 16 – Guardians of the Galaxy, Vol. 2
Movie 17 – Spider-Man: Homecoming
Movie 18 – Thor: Ragnarok
Movie 19 – Black Panther
Movie 20 – Avengers: Infinity War
Movie 21 – Ant-Man & The Wasp
Sue Nowicki is an alumna of the 2014/15 Disney Parks Moms Panel. She splits her time between planning her next Walt Disney World vacation and running a travel volleyball club where she fills the roles of secretary, navigator, head cheerleader, treasurer, athletic trainer and team psychologist. You can follow her on Twitter @TeamMom365.