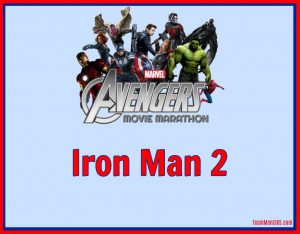 Synopsis
This sequel takes place six months after Iron Man 1 and the secret is out. Now Tony Stark must decide what he wants to do with his technology with the military knocking at his door all while the clock is ticking on the device that is keeping him alive.
Viewing Locations*
Amazon Rental, DVD and BluRay
Amazon also offers a box set of all three Iron Man movies.

*These viewing locations are only good for the date of publication. DVD and streaming options change constantly.
Marvel Fun Fact
More proof that The Incredible Hulk, Iron Man 2 and Thor are happening at roughly the same time, Nick Fury tells Tony Stark at the beginning of this movie that he has "bigger problems in the Southwest region to deal with" which refers Thor's hammer being discovered in New Mexico.
Also, can you spot the scene which harkens back to Walt Disney introducing EPCOT?
Discussion Question
At the beginning of Iron Man 2, Tony Stark is a pompous, arrogant windbag. The conundrum is that Iron Man is a selfless hero. Do you think that Tony's alter-ego of Iron Man makes him a better person? Yes, still flawed, but better. Let us know your thoughts in the comments below or on Twitter using the hastag #MarvelMovieMarathon.
If you want to go back to the beginning of our marathon or jump forward, here is the marathon timeline:
Week 1 – Captain America – The First Avenger (July, 2011)
Week 2 – Iron Man (May, 2008)
Week 3 – The Incredible Hulk (June, 2008)
Week 4 – Iron Man 2 (May, 2010)
Week 5 – Thor (May, 2011)
Week 6 – Marvel's The Avengers (May, 2012)
Week 7 – Iron Man 3 (May, 2013)
Week 8 – Thor: The Dark World (November, 2013)
Week 9 – Captain America: Winter Soldier (April, 2014)
Week 10 – Guardians of the Galaxy, Vol. 1 (August, 2014)
Week 11 – Avengers: Age of Ultron (May, 2015)
Week 12 – Ant Man (July, 2015)
Week 13 – Captain America: Civil War (May, 2016)
Week 14 – Doctor Strange (November, 2016)
Week 15 – Guardians of the Galaxy, Vol. 2 (May, 2017)
Week 16 – Spider-Man: Homecoming (July, 2017)
Week 17 – Thor: Ragnarok (November, 2017)
Week 18 – Black Panther (February, 2018)
Week 19 – Avengers: Infinity War (April, 2018)
Week 20 – Ant-Man & The Wasp (July, 2018)
Week 21 – Captain Marvel (March, 2019)
Sue Nowicki is an alumna of the 2014/15 Disney Parks Moms Panel. She is a team mom extraordinaire who has filled her time serving as secretary, navigator, head cheerleader, treasurer, athletic trainer and team psychologist for her daughter's travel sports team for over 15 years before becoming a team owner. You can follow her on Twitter at @TeamMom365.
Share this post on
About the Author