Snickerdoodles are a staple of the holiday season in our house. This is partly because cinnamon is such a perfect holiday flavor and partly because making cookies is a time-honored holiday tradition. But why not kick it up a notch with Mickey Snickerdoodle Cookies?! Because, let's be honest, everything worth making is worth making Mickey-shaped. Am I right??
This post contains affiliate links. If you purchase an item using any of these links the TeamMOM365 will receive a small commission.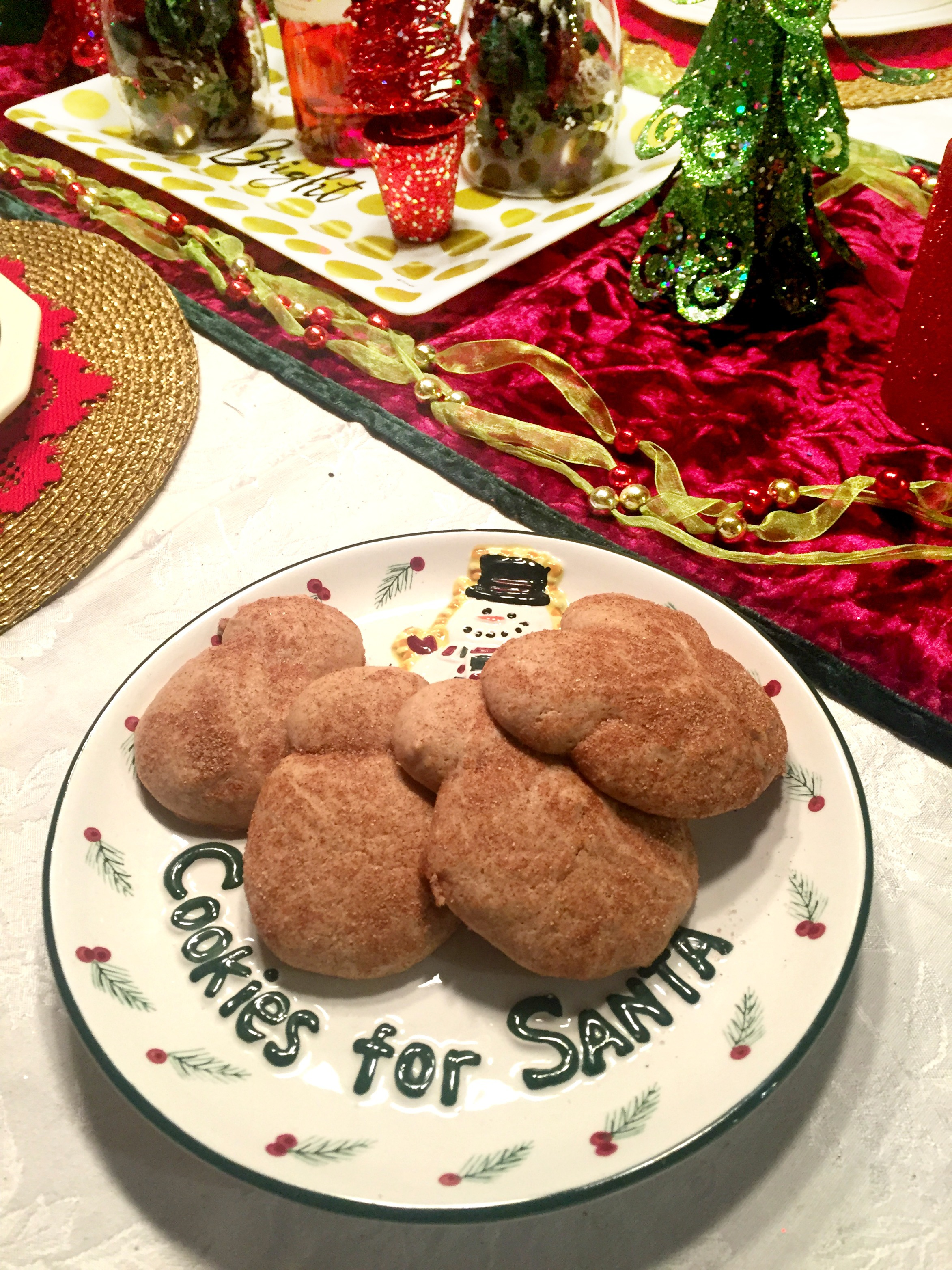 The holidays can be a crazy busy time for families near and far. From the shopping to the wrapping to the entertaining, it can be a stressful time. Yet I can't think of a better way to slow down and enjoy the season then to set aside some time for a good old fashion cookie bake with your family.
This recipe for Mickey Snickerdoodle Cookies is perfect for that occasion because the whole family to help. From your pre-teens and teens who can do the measuring to the littles who can easily add each pre-measured ingredient to the mixer, you can even enlist the kiddos to help determine the perfect pre-baking shape to get that practically perfect Mickey shape.
Now onto the fun: Start by assembling all the kitchen tools you will need. This is may seem like a waste of time but you will thank me later when you aren't running around the kitchen like a chicken with your head cut off looking for your whisk.
Kitchen Tools Needed
Spatula
Stand-up Mixer or Blender
3 bowls (you will only need two bowls if your stand-up mixer has a bowl)
Measuring Cups (1 C, ½ C, ¼ C)
Measuring Spoons (2 T, 1 t, ½ t)
Large spoon
Whisk
Saran Wrap
Cookie Ingredients
Cookie
1 stick butter, softened
1 ½ C sugar
2 large eggs, room temp
1 C sour cream, room temp
1 t vanilla
2 ¾ C flour
½ t baking soda
½ t baking powder
½ t salt
2T cinnamon
Cooking Spray
Topping
½ C sugar
2 T cinnamon
Instructions
1. Using either your stand-up mixer or your blender, cream the butter and sugar together.
2. It's now time to add the wet ingredients. Starting with the eggs, add one by one to mixture until fully incorporated. After the eggs are fully incorporated add the sour cream. Again making sure the mixture is fully incorporated. Lastly, add the vanilla.
3. In a separate bowl, mix the dry ingredients (flour, baking soda, baking powder and salt) together. Use a whisk to make sure dry ingredients are all incorporated.
4. Once dry ingredients are mixed together, sift them slowly into the wet ingredients. Use your spatula to frequently wipe down the sides.
NOTE: Sifting makes the dry ingredients much lighter and easier to mix into the wet ingredients. It also helps combine the different types of dry ingredients more evenly. While some might think sifting is a frivolous step, you will definitely see a difference in your finished product. It will be lighter and fluffier.
5. Once the wet and dry ingredients are fully incorporated, cover the mixture with saran wrap. Instead of putting the saran wrap just over the top of the bowl, make sure to push it down over the batter so it doesn't dry out. You want it cold not dry.
6. Place the covered bowl into the refrigerate for at least one hour.
7. This is a great time to clean up the kitchen. Wouldn't you rather clean now than when the cookies are ready to be eaten?
An Hour Later
8. Preheat your oven to 350°
9. In a small bowl, whisk together sugar and cinnamon for the topping.
10. Lightly spray your cookie sheet with cooking spray or line pan with a silicone mat.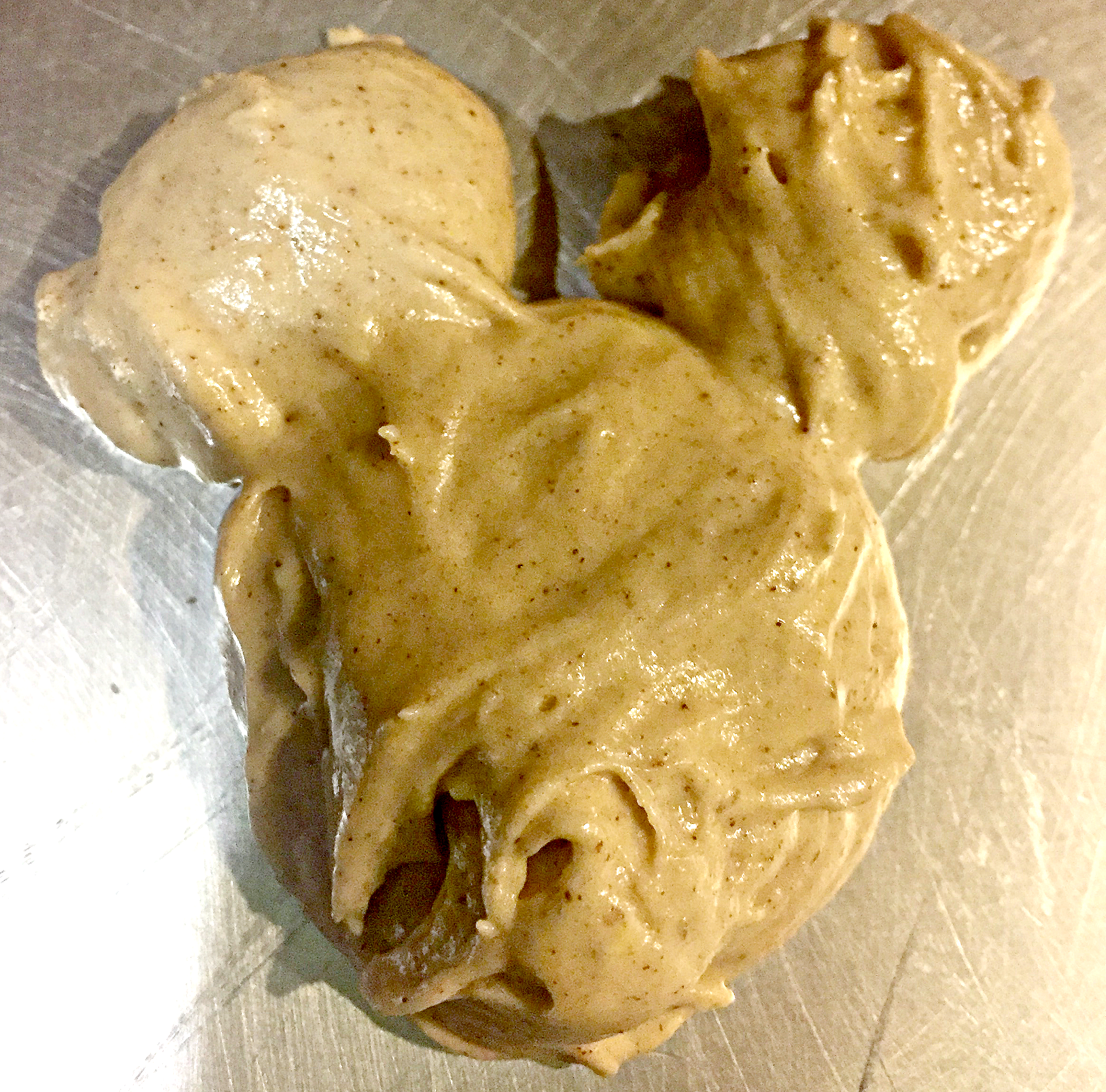 11. Using a 2 teaspoon measuring spoon place one dollop of batter onto the cookie sheet spreading it into a small circle until it is approximately ½ inch thick. Then using a ½ teaspoon measuring spoon place two small balls where Mickey's ear should be.
12. Sprinkle the top of each cookie with cinnamon sugar mixture.
NOTE: Typically, in snickerdoodle recipes you would completely roll the cookies in the cinnamon sugar mixture. However, if you do that when trying to make Mickey shapes the three cookie balls will have a hard time adhering to each other and fall apart easily.
13. Place cookies into pre-heated oven.
14. Cook for 10-14 minutes. (Start checking at 10 minutes to see if cookies are ready.)
15. Remove the cookies from the oven and let sit for 5 minutes then transfer to a cooling rack.
16. ENJOY!!
NOTES:
This recipe makes very "cakey" cookie. If you love cakey cookies like I do you will love this recipe and you will use it over and over even for regular-shaped cookies.
Due to the cakey nature of the cookie, the batter will be very moist unlike most cookie batters.
Ok, so let's be honest for a second. There is quite a bit of trial and error in the shaping of the Mickey head but once you get your groove, it's smooth sailing.
Let us know how you like this recipe and send us pics of your Mickey Snickerdoodle Cookies!
Other recipes from TeamMOM365:
Low Carb Berry Shortcake
Lasagna Soup
Chicken Stroganoff
Sue Nowicki is an alumna of the 2014/15 Disney Parks Moms Panel. She is a team mom extraordinaire who has filled her time serving as secretary, navigator, head cheerleader, treasurer, athletic trainer and team psychologist for her daughter's travel sports team for over 15 years before becoming a team owner. You can follow her on Twitter at @JazzinDisneyMom.
You can follow our journey here: Facebook, Twitter and Pinterest for more great Team Mom, parenting, travel and Lifestyle content.